Healthcare Waste - What goes where and How it's disposed of
Healthcare Waste - What goes where and How it's disposed of
Following  our previous articles on the The What Who & Why of healthcare waste and The How and Where of Healthcare Waste
we are now taking a look at what happens to the Waste once it has been collected.
As a "producer" of this waste the responsibility of ensuring its safe handling and eventual disposal sits with YOU. That includes small and home businesses practicing in any healthcare or medicinal / human or animal capacity – so covers Acupuncturists, Beauticians, Chiropractors, Chiropodists, Tattoo artists, Vets – basically any business using and producing waste from sharps, materials contaminated with bodily fluids, PPE, body parts, chemicals and medicines, medical devices and radioactive materials.
By ensuring you work with a fully registered and ethically validated service provider – which all Green Circle Direct suppliers are – you can rest assured your waste is going to the right place & being disposed of correctly ! (You also take away the risk of a very substantial fine and reputational damage for not doing so.)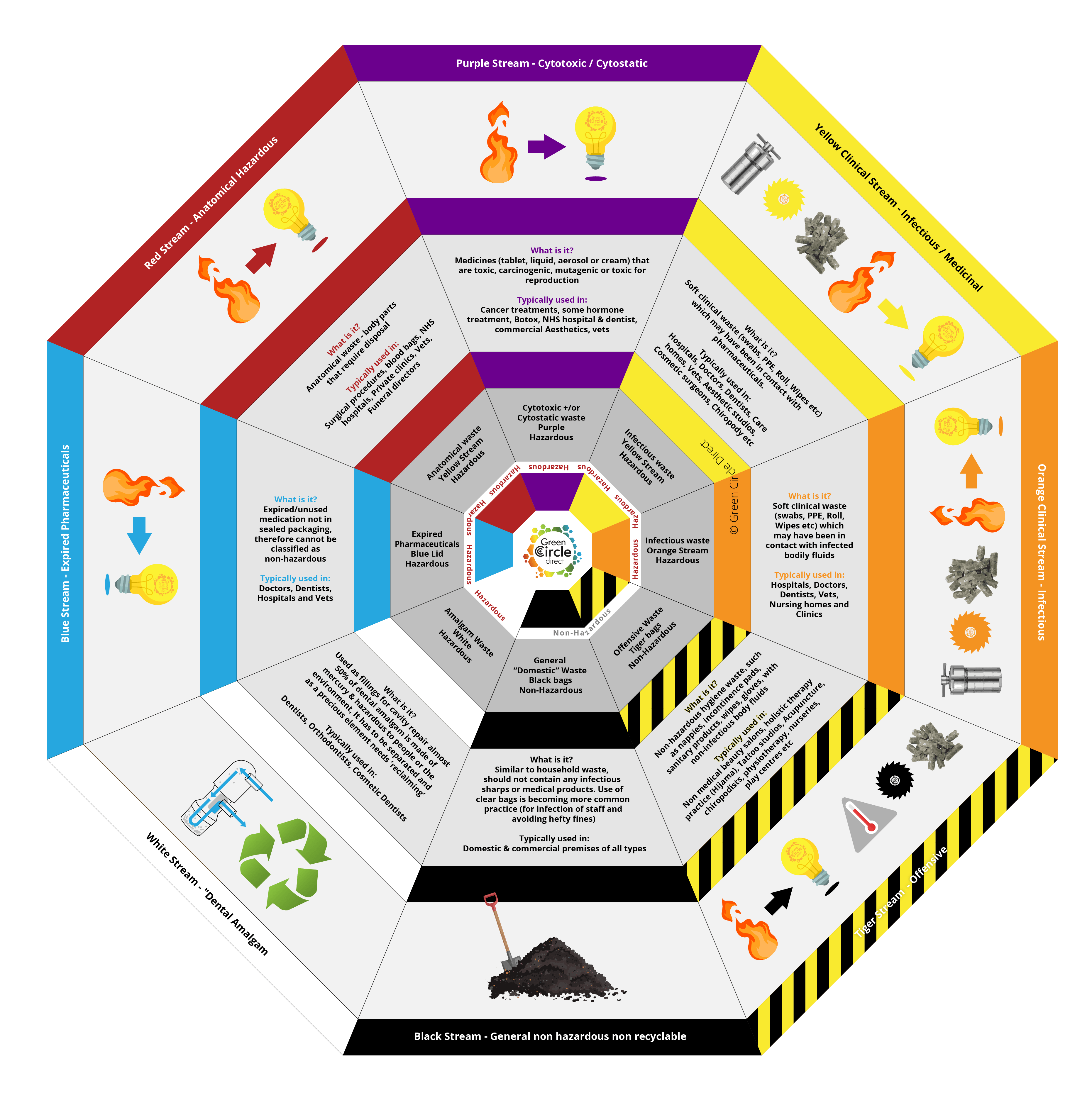 So where does it go then?
Incineration – Waste to Energy
The Infectious waste stream must be incinerated in a suitably licensed or permitted facility. This includes
anatomical waste;
chemically contaminated samples and diagnostic kits;
medicinally-contaminated infectious waste; and
Category A pathogens
infectious items contaminated with noncytotoxic and non-cytostatic medicinal waste
By working with an approved & validated provider they ensure that this waste is Incinerated using waste-to-energy technologies.
This is a waste treatment process at incredibly high temperatures which causes the organic substances within the clinical materials to "combust" and be rendered safe.
During the heating process, the materials turn into nothing but gas, ash & heat.
The high-temperature heat generated through incineration can then be recycled as heat energy.
The incineration process is also proven to reduce the mass of the original waste by more than 80%, as well as the volume of the waste by over 95%.
Alternative Treatment
Alternative Treatment
Some types of clinical waste may be treated to render it safe prior to final disposal.
Treatment may only take place in a suitably licensed or permitted facility
This waste stream must not contain chemicals, amalgam, medicines or anatomical wastes. (Hazardous)
Upon receipt at the Alternative Treatment Centre the waste is inspected & put through a shredding process then into a heat treatment at approx. 140 degrees to heat "disinfect" the material.
Once cooled the shredded matter is compressed and is available to be used as Solid Recovered Fuel and is used in waste to energy plants / manufacturers / cement kilns etc
Autoclave sterilisation
As with "Alternative Treatment" some types of clinical waste may be treated to render it safe prior to final disposal – and Autoclave treatment is a method some providers use. It is less effective in terms of reducing the amount being recycled as Alternative treatment plants – but is an established technology and although maybe taken over one day by AT, is still a viable process today.
Treatment may only take place in a suitably licensed or permitted facility
This waste stream must not contain chemicals, amalgam, medicines or anatomical wastes. (Hazardous)
Autoclave sterilisation use machines that are like giant pressure cookers!
The waste is shredded on arrival then placed into a large steel container which pumps high-pressure saturated steam in at temperatures circa 160 degrees.
This thoroughly kills all germs and dangerous microorganisms after about 25 minutes.
The output is a mass of non-hazardous fibrous material. Autoclave systems do reduce the volume of waste by around 60% – however less than 20% is then available for recycling.
The remainder of the non-hazardous waste is then transported to landfill sites or incineration plants.
White Stream - Dental Amalgam
The World Health Organization identifies mercury as one of ten chemicals that can pose a serious threat to public health due to its effect on the CNS (central nervous system) kidneys, lungs, eyes and skin among other implications.
Humans can commonly become exposed to mercury through eating seafood, industrial processes and healthcare processes.
Commonly used for cavity repair / fillings nearly 50% of dental amalgam is made up of mercury and therefore it must be disposed of in a safe manner.
Amalgam separators (Durr and Cattani are most common in the UK) work by collecting amalgam particles including those that are contained in wastewater through the use of sedimentation, filtration, centrifugation or a combination of these three processes.
Amalgam waste should then be placed in rigid white receptacles along with a mercury suppressant, then sent to a licensed or permitted waste management facility, where the waste undergoes a mercury recovery process prior to final disposal.
All UK dental practices to be equipped with an amalgam separator. By January 2021, all separators must retain at least 95% of amalgam particles.
Landfill
The very last resort!
Offensive/ hygiene and non infectious healthcare waste may be recycled, incinerated (utilising energy from waste facilities
where possible) or landfilled in suitably permitted/licensed facilities.
Before being sent for disposal to a landfill site, robust source segregation is necessary to meet pre-treatment requirements.
Verification for healthcare producers' (that's You the producer!) is a  pre-acceptance audit , required in order to avoid infectious waste being mixed in with the offensive/hygiene waste – which is in contravention of waste legislation.
Acceptance of this waste for disposal ultimately depends on meeting the conditions of the landfill licence/permit.
Domestic waste from a healthcare provider (black bin bags)  is similar in nature and composition to the waste we generate at home.
Domestic waste must not contain any infectious materials, sharps or medicinal products.
Waste should also meet pre-treatment requirements for the site in line with the Environmental Permitting (England and Wales) Regulations and Landfill Regulations in Scotland and Northern Ireland.
Domestic waste is usually placed in a black bag for disposal or further treatment (through a material recycling facility for extraction of materials for reuse or recycling). Some trusts have started to use of clear bags for domestic waste – enabling  visual inspection of contents.
Domestic waste separately collected at source for recycling (such as plastic, glass, cardboard and paper etc) should be segregated and disposed of correctly.
Unlike domestic householders, healthcare providers are prohibited from placing any hazardous wastes (including some deodorants, batteries etc) in the black-bag waste stream.